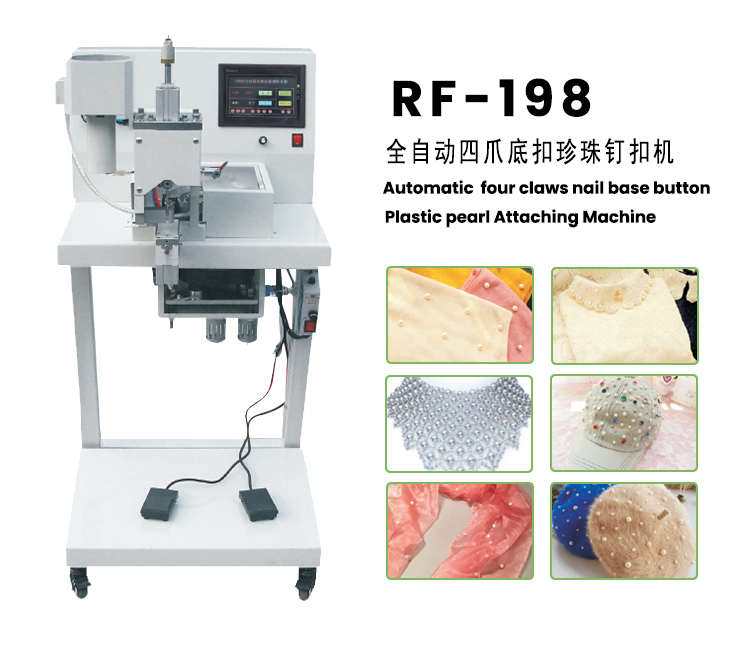 Product details.
This machine is widely used in clothing,shoes and hats, leather goods, belts, scarves, ornaments, handicrafts, bags andother industries.
Characteristics:
This machine is suitable for any 4mm12mmfull circle pearl use, many kinds of specifications mold may provide thechoice, quick convenient and easy changes the mold design idea. More convenientin the process of operation.
Tactile control panel, adjustable workingspeed and fastness.
3 this machine adopts the new guidingdevice, the pearl and the four claw bottom buckle docking is more accurate.
4 this machine imports the foreign advancedtechnology, uses the foreign import pneumatic component, thus increased themachine the durable degree.
The machine has the characteristics ofsimple operation, stable performance and beautiful effect.
Technical parameters:
型号

(MODEL)

电压

(VOLTAGE)

功率

(POWER)

净重

(NET WEIGHT)

包装尺寸

(Nails Size L*W*H)

RF-198

220伏特(v)

0.75(KW)

90千克(KG)

750X700X1180毫米(MM)