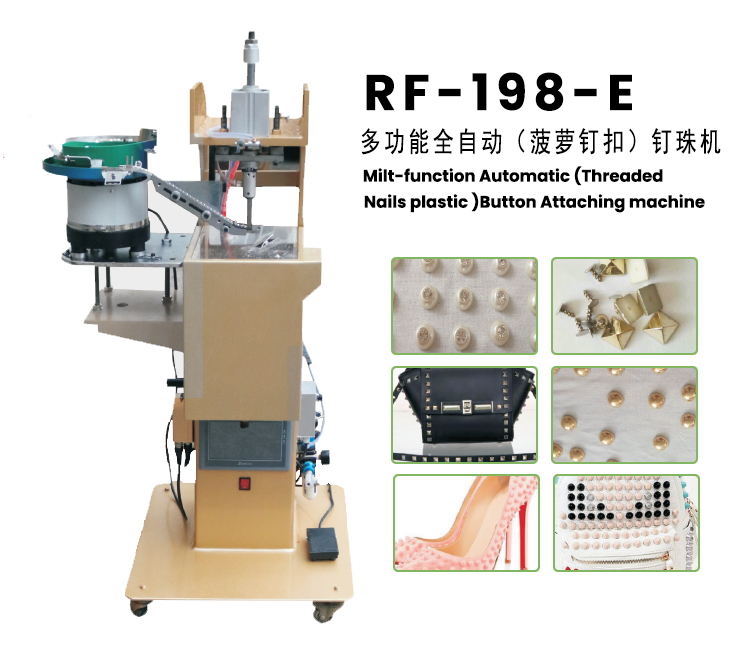 Product details
Purpose:
This machine is widely used in clothing,shoes and hats, luggage leather goods, belts, ornaments, handicrafts and otherindustries.
Characteristics:
1.This machine is suitable for round,semi-circular, bucket shaped, conical, square plastic buckle and 4mm-16mm roundpearl. The bottom buckle is threaded.
2.The machine adopts a new type of vibratingplate device, the rivets and the bottom nails are automaticallysupplied fromthe upper and lower ends, and the rivets are nailed down from the upper faceand simultaneo usly extruded.
3. the rivets are supplied automaticallythrough the vibration system, accurate and error-free.
4.This machine can adjust working speed,fixity, brightness and so on.
5. The utility model has the advantages ofsimple operation, stable performance, beautiful effect, etc.
Technical parameters:
型号

(MODEL)

电压

(VOLTAGE)

功率

(POWER)

净重

(NET WEIGHT)

包装尺寸

(Nails Size L*W*H)

RF-198-E

220伏特(v)

0.84(KW)

121千克(KG)

700X680X1340毫米(MM)