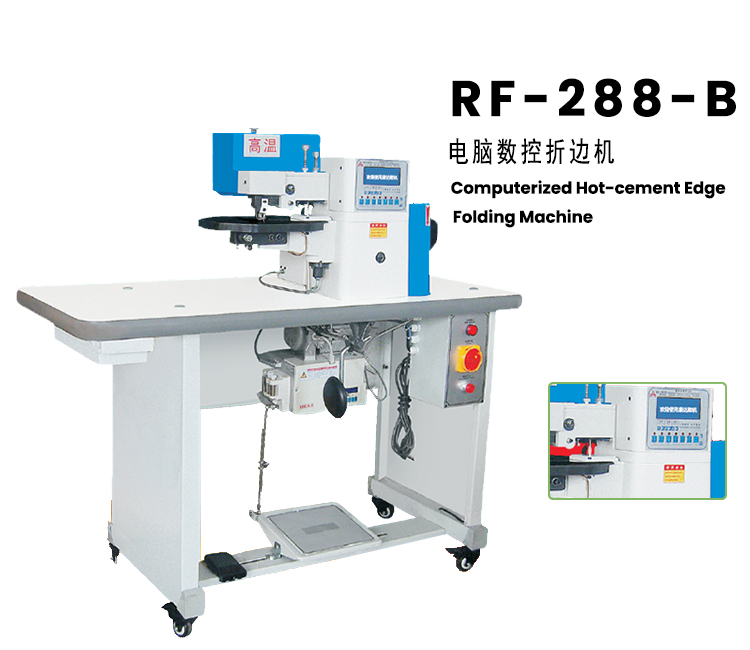 Product details.
Purpose:
This machine is suitable for shoes, purses, mobile phone covers and other leather products such as PVC, pu, natural leather, artificial leather, cloth and other materials, the use of hot melt adhesive automatic gluing and folding operations.
Widely used in shoes, leather goods and other industries.
Characteristics:
1. This machine is the combination of automatic electronic gluing machine and vamp folding machine. The leather is automatically glued and flanged by this machine. The manual gluing process is omitted, and the working efficiency is improved.
The machine adopts hot melt adhesive, and can also fold the glued piece.
This machine adopts the most advanced science and technology, the computer controls the functions such as outside bend, straight line, inside bend, etc., automatic gluing and flanging operation, make the whole process realize intelligentize, have the inside bend adjustable distance to carry on the automatic gear cutting,
Automatic control of slow flanging when outside bending and motor control positioning function.
60% discount edge width adjustable from 3mm-8mm.
You can fold the reinforcements into the.
5 the machine has the function of self-fixed gear cutting, it can automatically slow down when turning the edge, can fold the reinforcing belt into the same time, the new-type folding device, the pressure guide device that changes to carry on.
New speed regulation function, convenient speed regulation.
6When the leather is released, the hammer will open automatically.
7 automatic control of gumming by photosensitive resistor, stable and accurate gumming quantity, automatic tapping scissors, double protection of gelling system, excellent performance.
8. Advanced folding device, easy to adjust, flanging meticulous, uniform width, smooth and beautiful.
Flanging effect, work efficiency for manual operation can not be compared.
This machine is beautiful in design and generous in shape. It is the best choice for shoe industry, leather industry and jewelry industry.
9 new intelligent design concept, when the machine works, the whole program is controlled by the computer, the operation is very simple, the operator only needs to master the position of the material and the quantity of the material.
Technical parameters: