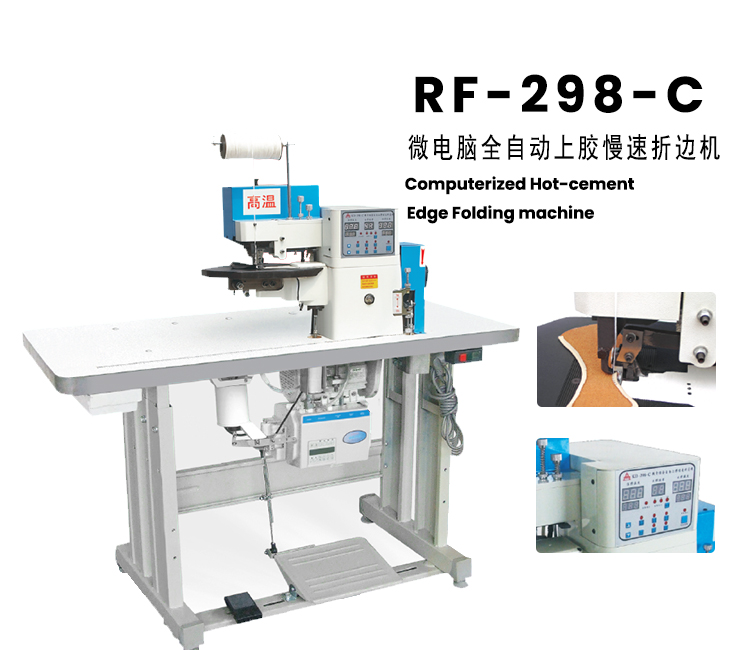 Product details.
Uses:
This machine is suitable for shoes, purses, mobile phone cover leather products PVC, pu, natural leather, artificial leather, cloth and other materials, the use of hot melt adhesive automatic gluing and folding operations.
Characteristics:
The main results are as follows: 1. The machine adopts single-chip microcomputer to control the operation of gluing and flanging. The machine has the function of automatic gear cutting in inner bending and slowing down the speed of folding in outer bending. The number of inner bending and shearing is controlled by three Guang Min points.
The whole operation process is intelligentized.
2. Free choice of operation speed of big and small bends, automatic cutting and automatic slow speed function, no need of manual control.
3. Hot melt adhesive is used in this machine, and the flanging of the glued piece can also be carried out.
4. The hot melt adhesive temperature is adjusted by the button, the flow rate of the adhesive is adjusted conveniently, and the indication is accurate.
5. Through the photosensitive resistor automatic control, the output is stable and accurate.
6, the width of the flanging can be adjusted by 3mm-8mm, the reinforcing belt can be folded into the same time, the new folding device, the improved pressure guide device, and so on.
7.Mechanical operation replaces manual operation, the efficiency is 5-10 times higher than that of manual operation.
Technical parameters