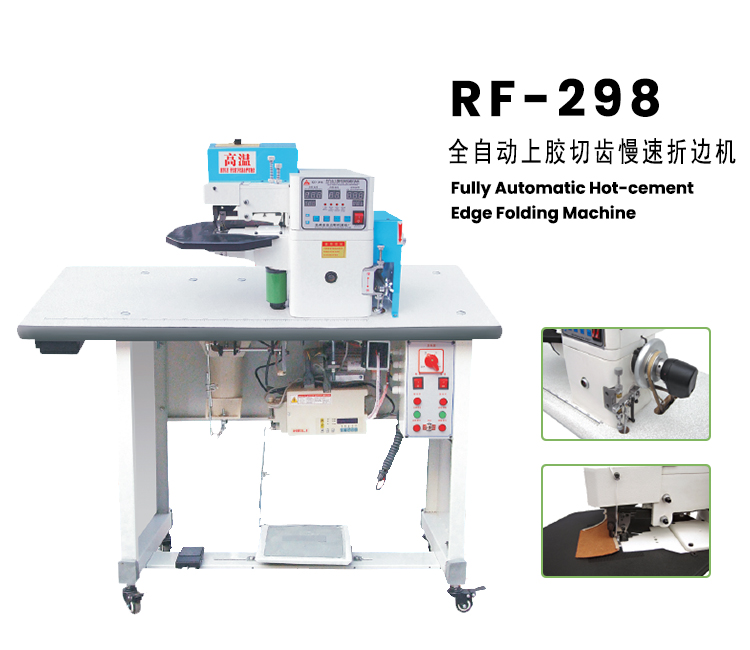 Product details.
Purpose:
This machine is suitable for shoes, purses, mobile phone cover leather products PVC, pu, natural leather, artificial leather, cloth and other materials, the use of hot melt adhesive automatic gluing and folding operations.
Characteristics:
1. The machine is a combination of automatic electronic gluing machine and upper folding machine. The leather is automatically glued and flanged by this machine. The manual gluing process is omitted and the efficiency is improved.
2. The machine adopts hot melt adhesive and can also fold the glued piece.
The width of the hem can be adjusted by 3mm-8mm, and the straps can be folded in together.
3, through the button to adjust the temperature of hot glue, the flow of glue, easy to adjust, accurate instructions.
4. The output of rubber is stable and accurate through the automatic control of photosensitive resistor.
5. The machine has the function of self-fixed gear cutting, the automatic slow speed when turning and folding, the new folding device and the pressure guiding device.
6.When the leather is released, the "iron hammer" will open automatically and the presser foot will be lifted automatically.
7. New speed regulation function, convenient speed regulation.
Technical parameters