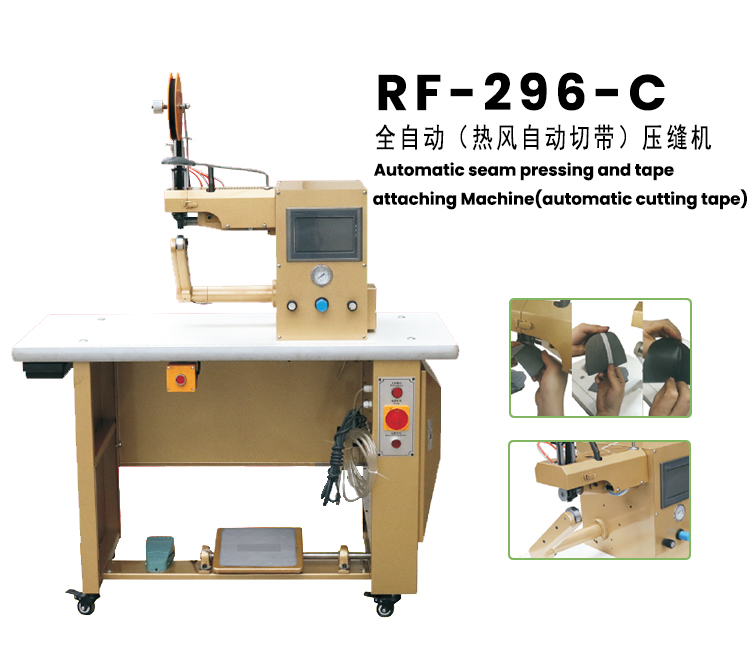 Product details.
Uses:
The machine is applied to shoes, luggage, clothing, PVC, PUU, natural leather, fabric material seams, automatic cutting, flattening, multi-process integration operation.
Belt according to the needs of the fabric, such as tarpaulin, reinforced tape and other tape can be.
The use of this machine can improve work efficiency, reduce working procedures, do not damage the fabric, the effect is beautiful.
Characteristics:
1. This machine adopts pneumatic layout, the movement is smooth, can adjust the air pressure according to the need separately.
2. The machine adopts PLc control system, which is combined with low-voltage electromechanical technology, which makes the whole operation process intelligent and can adjust the height of the wheel according to the need of the fabric.
This machine adopts low voltage 110V heating, blow the air, the temperature is accurate, the heat is even, can adjust the temperature according to the need of the belt, blow the size.
4. This machine can freely set the length, according to the fabric set the required length.
5. This machine has "store" function, can find shoe bag option item in the working interface, choose to enter, can store 1-10 kinds of fabric length, can be set freely according to the length of fabric or shoe bag.
6. Optoelectronic sensing, depending on the fabric, "induction mode" or "foot mode"
7. This machine has automatic belt cutting function, the new belt cutting machine layout and the good electrical control system, the belt cutting is accurate, can cause to make the fabric to be smooth.
Good positioning system can effectively improve the output and quality of products.
The efficiency is 6-9 times higher than that of manual labor.
Technical parameters: