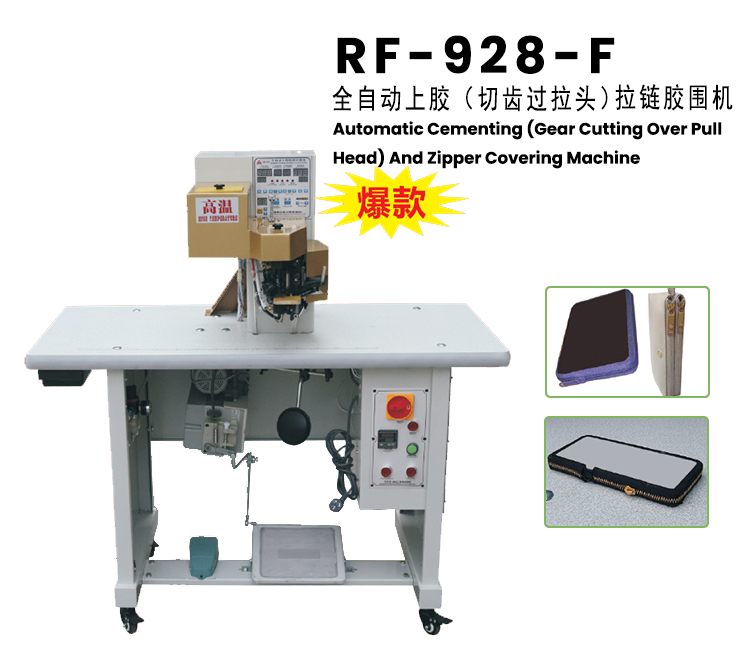 Product details.
Uses:
This machine is developed by our company on the basis of the professional production of leather flanging, after many years of practice verification, it is suitable for many products of the girth zipper.
Such as: notebooks, silver bags, fashion bags, cosmetic bags, wallets, single and double pull bags and other leather products.
Characteristics:
1, this machine is applicable to 3#, 5#, 7#, 8# zipper can be used.
2. This machine adopts the new pneumatic layout, realizes the automatic induction mode when the girth zipper belt pulls, the induction precision, the movement fluency, reduces to the zipper cloth request, achieves A, B belt universal, does not need to adjust.
3. The machine adopts the single-chip microcomputer control system, combines the low-voltage current and the new mechanical technology, realizes when the circumferential zipper, pulls the head, pulls the piece to pass together, lets the entire work process realize the intelligence, reduces the fussy work flow,
In order to improve the quality and output of products.
Work efficiency is 6-8 times of manual.
4. The machine is divided into two working modes "automatic mode" and "foot mode"
According to pull head, pull piece to choose.
5. The machine adopts the functions of automatic feeding, automatic gluing, automatic positioning, automatic induction, automatic slow speed and so on.
Make out of the products with zipper center, pull smooth, round even, full, three-dimensional feel, the effect is beautiful.
Technical parameters: