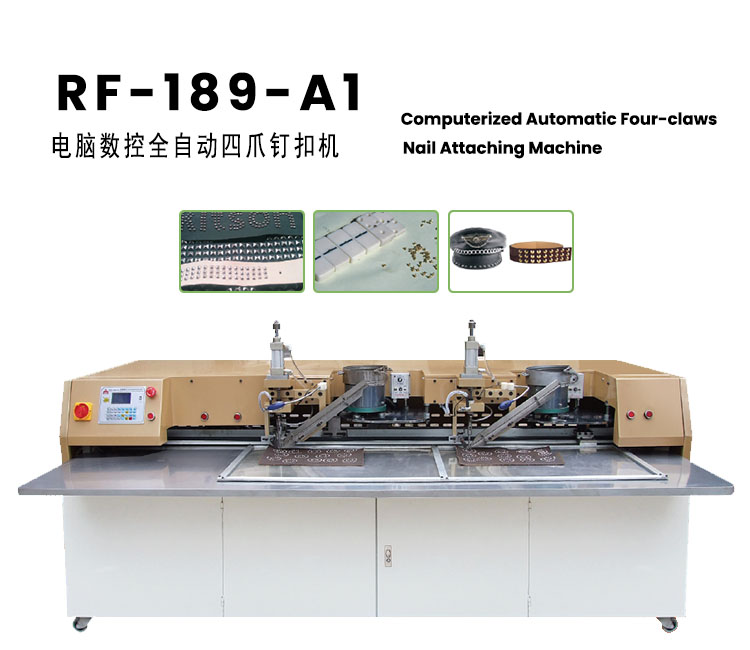 Product details.
Uses:
This machine is widely used in clothing, shoes and hats, leather goods, belts, ornaments, handicrafts, bags and other industries.
The utility model has the advantages of simple operation, stable performance, beautiful effect, etc.
Characteristics:
1. Four-claw nails of various shapes suitable for use in 2.0mm=12mm.
2. Adopting a new type of vibrating plate device, no matter the square button or the round button is selected, the vibrating plate need not be replaced, the material can be automatically fed, and the wear-resisting degree of the machine can be increased, thus prolonging the service life of the machine.
3. According to the different patterns, the machine can adopt the automatic working mode after setting up the program. It has the characteristics of automatic typesetting, automatic nail feeding and precise positioning. Only one button switch is needed to complete a pattern.
Moreover, the interface is not deformed, and the interface is standard and beautiful.
4. Adjustable working speed, fixed intensity, brightness and so on.
Simple operating system is more suitable for beginners.
5. Adopting the working mode of double head working at the same time, the working efficiency is greatly improved, the labor is saved, and the production cost is reduced.
Technical parameters: