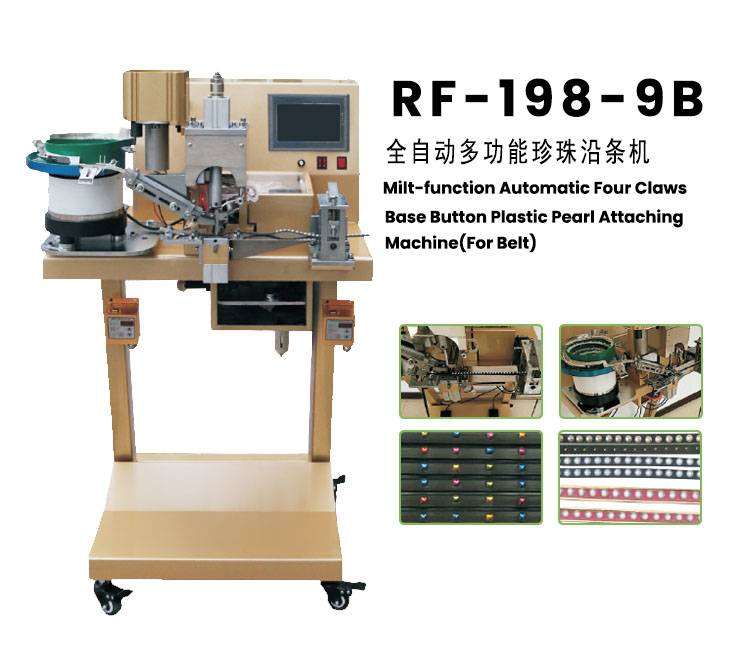 Uses:
This machine is widely used for luggage, shoes, leather goods, belts, handicrafts, decorations and all kinds of decorative bars, and so on.
Characteristics:
1. The utility model is suitable for the use of semi-round and circular pearls of various special-shaped buckles such as stripes, ribbons, lace, etc. of 4mm-16mm, and is mainly suitable for the decoration of the outer ring of the sole.
2. Using double motor and PLC positioning system, automatic feed guideway device, without manual control.
3. The travel of the fastener can be freely adjusted, and the single operation can be freely selected by adopting the advanced design mode.
4. This machine can adjust the working speed, fastening degree and so on.
5. Adopt the imported pneumatic components, accurate positioning, easy to operate, increase the stability and durability of the machine.
A machine is equivalent to 20 workers, a worker can operate more than one machine at the same time.
Thus the work efficiency has been greatly improved.
The utility model has the advantages of simple operation and stable performance, and the interface is not deformed, and the reverse buckle is standard and beautiful.
Technical parameters: